Peter Francis Geraci concentrates in Consumer Bankruptcy Chapter 7 and Chapter 13 and Serious Injury matters.
My firm employee some of the best bankrupcty minds in the country. We conduct in house seminars and attend countless bankruptcy seminars in Ilinois, Indiana, Wisconsin and Michigan so we're ready to fight for your rights.

We have one of the most admired bankruptcy law firms in the country and will represent you and your family when you need our help. Call 1.888.456.1953.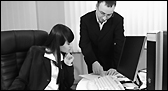 "Creditors have better memories than debtors" - Benjamin Franklin
Our phones are answered from 7 am to 9 pm CST call 1.888.456.1953 to get OUT OF DEBT!

Deciding to file bankruptcy?
Read these important articles about debt and bankruptcy.

Servico Legal Para La Comunidad
Tenenos Abogados que hablan Espanol para consultas de Bancarrota y Accidentes. Llame 1.888.335.2539.

55 E. Monroe St, Suite #3400, Chicago
4904 W. Irving Park, Rd. Chicago
6537 W. Cermak Rd., Berwyn
3640 W. 95th St., Evergreen Park
Geraci Arreola & Hernandez
Porfavor visite nuestra pagina de internet en espanol @ www.spanishPFG.com
read more